Jonathan and Charlotte first became known to the world when they auditioned on Britain's X Factor. Unfortunately, they lost to a dog act (which made a lot of people mad, including me)...but they still got a record deal, and their first album,
Together
, came out in September 2012 (October in the U.S. & Canada) from Syco Records. The album reached 32 on the Irish Albums Chart and 5 on the UK Albums Chart.
The Prayer
begins a little different than all the other versions. Charlotte's voice is more like that of a pop singer than an opera singer - or at least, that's we think until we hear her later on in the song and in the rest of the CD. Jonathan's voice, of course (you'll agree with my of course if you've heard him), is amazing. Finally, we've got a choir (Boys Aloud) at the end to keep this version of The Prayer interesting and different, which is very much necessary when you've heard so many versions of this song that you're almost starting to get sick of this song. This is the only song on the album that is at least partly in English (all the rest of the songs being in Italian, I believe).
Caruso
- Very well done, as usual, for Jonathan and Charlotte. Pretty much all I can say here.
Vero amore
is my absolute favourite on this album, and it has become one of my favourite songs. This song is actually a "cover" of Elton John's 'Your Song' in Italian. In my opinion, Jonathan and Charlotte's version is much better than the original or any other version I've ever heard of this song. I love the crescendos in this song, at the beginning, in the middle, and near the end.
Ave Maria
- the beautiful notes of this song make Charlotte's voice angelic. It is certainly interesting to hear this song sung as a duet, but it is only until the ending that Charlotte and Jonathan sing together.
Forse (Unintended)
is another gorgeous song off this CD (and is also my mom's favourite). It is probably the most well-done song on the entire CD.
Il mondo e nostro (Rule the World)
- This song is another of my favourites, for no other reason than that I love the original, and this version is also very well done.
Canto della terra
is a very well-remembered song from my childhood back when my mom listened to a whole lot of Andrea Bocelli, so hearing this song again makes me feel happy. Jonathan and Charlotte do a great job on it.
Ognuno soffre (Everybody Hurts)
- the melody seems somewhat familiar, but maybe that's just because I've listened to this CD a couple of times. As usual, it sounds great.
Chi mai vivrà per sempre? (Who Wants to Live Forever?) -
This is another well-known song from my childhood. When Jonathan first begins to sing, "Chi mai vivrà per sempre?" it is both chilling and beautiful. Even so more so is the violin music in the middle, and when Charlotte begins to sing just before the final rounding chorus (wait a second - was she just singing in ENGLISH?!)
La prima volta (The First Time Ever I Saw Your Face)
is also very well known to me because my mom loves to play Paul Pott's version. I'm not too impressed with Jonathan's beginning lines. The song also sounds a little mellow to me compared to the version I'm used to, but maybe that's just me.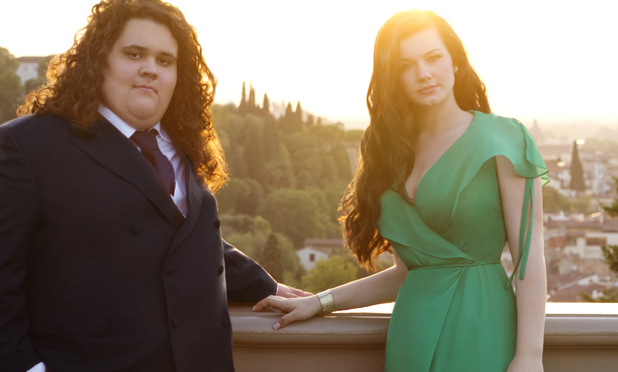 This entire album is gorgeous. There's not a single song that I don't like or that doesn't sound great (except for maybe the last track). I would definitely recommend buying this album to anyone - and I'm looking forward to this duo's next!
Alyianna's rating:
9 out 10