So...I finally finished watching
Les Miserables
! What can I say about it? It was amazing, that's for sure. I've never watched a movie musical with almost no talking whatsoever, so it was also a new experience.
What do I think about the musical element? Well, I love musicals and singing itself, but I was a little disappointed about how rushed some scenes were. However, I do understand that because it is a musical, that is how some things have to be and that not everything from the books can be included. I was pleased with the elements that were kept in, from Jean Valjean's yellow coat to all the crosses (keeping with the religious nature of the book).
The story:
Jean Valjean was sentenced to the galleys for many years after stealing a loaf of bread to feed his starving sister's child (actually, there were several children in the book, but I won't harp on that as this is a summary). After his release, it is only the kind Bishop, who turns him on the right path to start a new life. Then he meets Fantine, who has turned to desperate paths to save her daughter, Cosette. He promises to take care of Cosette, and even then, he could have spent his life in peace - but Javert, the fanatic police inspector, is on his heels...
Javert and Jean Valjean
Jean Valjean was played very well by Hugh Jackman. His voice can't go the same heights as the likes of Colm Wilkinson (a good example is found in comparing their versions of "Bring Him Home"), but I prefer Hugh Jackman's emotional portrayal of the main character of this story. I think he did an amazing job, and after watching behind-the-scenes things, I feel amazement when I see how much Hugh sacrificed to be able to play Jean Valjean the best he could. There are times when you can hear the strain on his voice, but he does everything - acting, singing - with such skill that I think we can forgive him for that. I can't even choose a best scene for Hugh.
Russel Crowe played Javert. I've seen a whole lot of people on the Internet say that he did a horrible job, which shocks me because I think he did a really great job. I think Russel's looks and voice are perfect for Javert. I love his solos and any time he is singing, actually because while he doesn't have the best voice out of all the actors/actresses, I just love his for some reason.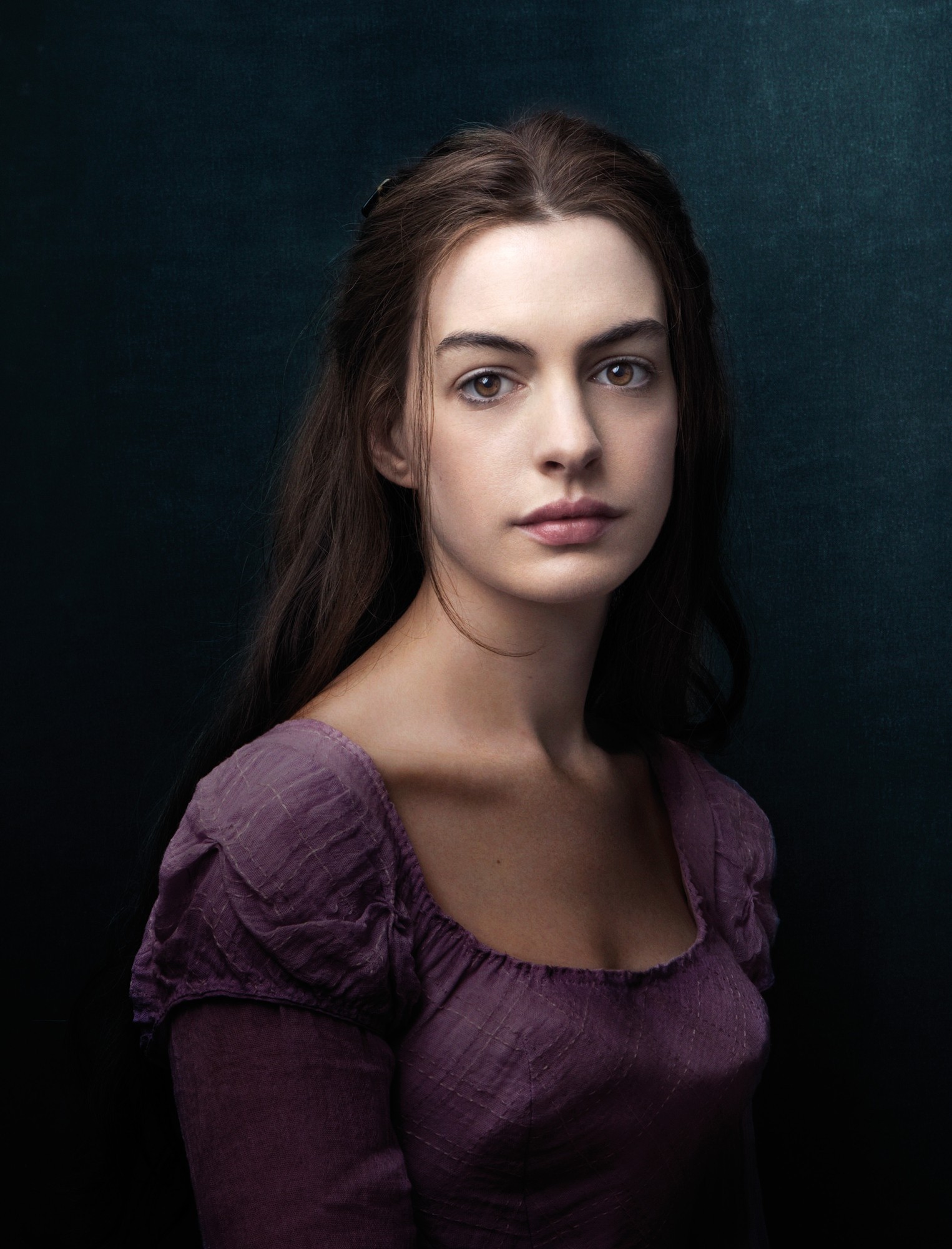 Fantine
While Fantine was described as having beautiful golden locks in the book, the emotion used by brunette Anne Hathaway made me completely forget that one little detail. Her voice is also so lovely and heavenly that she sounds like an angel (which she actually is at the end of the movie... :P).
I thought Eddie Redmayne did a good job on Marius - though when Jean Valjean told Marius about his real identity near the end of the movie, I found Eddie's facial expression a little weird for the situation. Eddie's best scene was definitely "Empty Chairs at Empty Tables"; I thought it was done magnificently. Oh, and I also loved Marius' defending scene at the barricade.
Amanda Seyfried's Cosette - Amanda's voice is probably the best out of everyone's. She can reach such high notes, and her voice trills. However, I do have to admit she sounds a little bit like a sheep at times. :P I actually don't like the older Cosette as I find her immature and a little annoying in that respect - but she was exactly the same way in the book, so perhaps that's a good thing. Aaaand you do have to admit Cosette is beautiful. :) I would give her best scene as being when she thinks about Marius in her room, singing "In My Life".
Jean, Marius, Cosette
I don't think you can find anything lacking in Samantha Barker's Eponine. This is HER role - she played it on stage before she was cast in the movie. Her voice is great...the emotion she shows...those twitches when she dying! I'd say her best scene is probably her solo "On My Own" - or maybe "A Little Fall of Rain".
The Thenardiers - I really should have mentioned them before now. ;) Monsieur is played by Sacha Baron Cohen. I love the accent he uses, the slyness he portrays, all of it. He pulls off his funny parts wonderfully. Madame is played by *gasp* Helena Bonham-Carter, one of my favourite actresses. While Mademoiselle is big and tough and mean in the books while Helena is petite, I love her bird-nest's hair, and I think she does a good job anyway. This pair adds the comic element to all the darkness in this movie.
In the book, Enjolras is described to have an angelic face --- and while I'm not saying that Aaron Tveit has one, I am going to say that I think the director made a good choice in casting him. ;) I also like his hair... (and while I'm on this point, note this - Alyianna has an obsession with hair). Besides that, I think Aaron played this character really well, keeping with the strong, haughty air of the original Enjolras.
Enjolras and Grantaire
I still have most of the barricade boys mixed up (except for Marius and Enjolras, of course), but I was able to pick up Grantaire, as it's obvious which one is him. I wish there had been time to expand on the Grantaire/Enjolras thing, but, having finished the book before I got to this scene, I thought their death scene together was done beautifully. However, for those who haven't read the book, I'm not sure if they would understand the true beauty of it.
Gavroche was perfect, spunky and a little leader. Even though there wasn't time to go into all the subplot and show Gavroche taking care of two little boys, I think that was shown well in the street scene with the gamin of the streets of Paris running after Gavroche.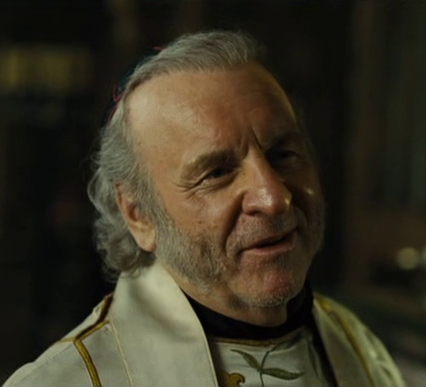 One character I was disappointed with, however, was the Bishop. As he has the first beginning chapters of the book strictly written on him, I felt that the five minutes he was on screen wasn't enough. Yes, his goodness and holiness shone through and through in those five minutes...but I'm still disappointed. I was happy, however, that he was played by Colm Wilkinson - it just adds more depth to the scene when the Bishop (the classic Jean Valjean of the stage) hands the candlesticks to Jean Valjean (the new Jean Valjean, of the movie).
As said at the beginning, I liked how the Catholic elements were kept in this movie. It kept the movie historically correct and also closer to the book. ;) The only thing that WASN'T Catholic was the pro-Revolutionary part of the plot, but this was in the book (obviously) and wasn't blatantly anti-Catholic (besides the fact that revolution isn't Catholic).
In the next part, I'll talk about scenes from the movie.
Alyianna's rating:
8.5 out of 10