Creator and Writer:
Julian Fellowes
Main 'Upstairs' Cast:
(top from left to right) Penelope Wilton (Isobel Crawley), Michelle Dockery (Lady Mary), Dan Stevens (Matthew Crawley), Maggie Smith (Dowager Countess), Hugh Bonneville (Lord Grantham), Elizabeth McGovern (Lady Grantham), Laura Carmichael (Lady Edith), Jessica Brown Findlay (Lady Sybil); not included - Allen Leech (Tom Branson); Lily James (Lady Rose)
Main 'Downstairs' Cast:
(bottom from left to right) Lesley Nicol (Mrs. Patmore), Thomas Howes (William), Joanne Froggatt (Anna), Brendan Coyle (Mr. Bates), Jim Carter (Mr. Carson), Phyllis Logan (Mrs. Hughes), Siobhan Finneran (Mrs. O'Brien), Rob James-Collier (Thomas), Sophie McShera (Daisy); not included - Kevin Doyle (Mr. Molesley), Matt Milne (Alfred), Ed Speleers (Jimmy), Raquel Cassidy (Mrs. Baxter)
Composer:
John Lunn
Run:
September 2010 - December 2013
Downton Abbey
is a fairly new period drama that focuses on the lives of the Crawley family - the Earl of Grantham, his wife Cora, their daughters Mary, Edith, and Sybil (the people 'upstairs') and their servants (the people living 'downstairs'). Episodes 1-4 cover the years 1912-1923, skipping some time in between. Since I prefer to offer the choice of spoiling the plot lines or not when I can, here are links to where you can read a quick summary of each season.
Series 1
|
Series 2
|
Series 3
|
Series 4
|
Synopsis of each episode
Lady Grantham and the Dowager Countess have tea on the lawn
I fell in love with
Downton Abbey
as soon as I started watching it. I would definitely give this show a rating of high-quality period drama - and other people seem to agree with me since it is one of the most successful new dramas. The little details providing a reflection of the period's atmosphere are meticulously perfected down to the badges that a soldier during World War I would wear. The costumes, sets, scenery, and music are gorgeous. While the episodes can be a little melodramatic at times, I find
Downton Abbey
interesting as well as intellectual stimulating. Besides a few minor morality issues which I am going to go into depth in a moment, the only problem I had with
Downton Abbey
is that it took me a few episodes to tell who was who - there are so many characters! But I have grown to love all of them (or most of them) now.
Mr. Carson, Mrs. Hughes, and Mary's baby
The characters have a good sense of morality, and there are a few characters whom I hold in very high esteem for this (e.g. Mrs. Hughes, the housekeeper). I love Mrs. Hughes' kindness, Mr. Carson's (the butler) soft spot for Mary, and the faithful and dedicated husbands and wives in the series (
BIG SPOILER
e.g. Anna & Mr. Bates
END BIG SPOILER
). I just only have a couple of issues on morality (which I can't say for most television shows nowadays). Actually, most of these issues are resolved within the show, but I thought I would mention them below in case for anyone who wants to know before they start watching.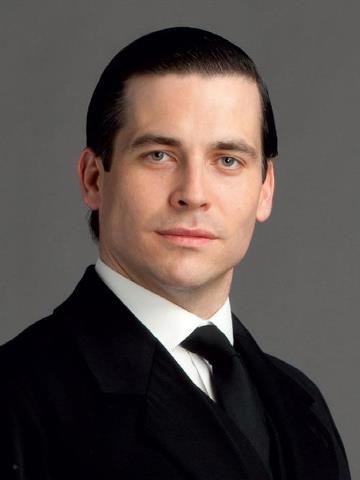 Thomas Barrow

Thomas Barrow (

SPOILERS

)

Thomas is one of the staff, who has served at different positions for ten years at Downton. He is also homosexual. There is one short questionable scene with Thomas and the Duke of Crowborough near the end of the first episode of series one. In series three, one of the staff, Mrs. O'Brien, tricks Thomas into believing that the new footman James is also homosexual. Thomas tries to make an advance on James, and James is horrified and disgusted. Later, Thomas apologizes to James and the two become friends. Thomas also has a malicious and conniving attitude, but he does have some character development throughout the seasons. It is mostly for this as well as the homosexual elements being so very minor that I am willing to let this matter drop. However, this does not stop me disliking Thomas because he still enjoys plotting to get other people, both downstairs and upstairs, in trouble.
Lord Grantham and Jane

Other Issues Here & There (

SPOILERS GALORE

)

In episode three of series one, Mary has a one-night affair with a Turkish diplomat, Mr. Pamuk. This leads into many problems throughout the show. Mary realizes that what she has done is wrong, so I don't have too much of an issue with this; we also don't really see anything. In series two, one of the short-term servants has an affair and gets pregnant; Lord Grantham almost has an affair with another of the short-term servants (I still kind of hate him for this). In series four, one of the downstairs staff, Anna, is raped (which we don't see). Her husband kills (okay, it's not proven, but I'm almost certain) the guilty man for what he did to Anna (and I don't blame him for it). In the same season, Edith has a 'night' with her fiancé; he goes missing (he still is at the moment) and Edith discovers that she is pregnant. She almost aborts the baby until she hears the anguished cry of a woman who has just had an abortion at the 'clinic'.

Alyianna's rating:

9.5 out of 10

Audience:

16+ (depends on maturity)

Images and quotes!! :)
The business of life is the acquisition of memories. In the end that's all there is.
Carson (S4E4)
Preparing the house in the morning (S1E1)
Let he who is without sin cast the first stone. Are you without sin, Alfred, because I most certainly am not.
Robert (S3E6)
Thomas approaches the Dowager Countess Violet
at the Servant's Ball (S2E9)
About an Ouija board (S2E9):
Daisy: Don't you believe in spirits then?
Mrs. Hughes: Well, I don't believe they play board games.
Edith asks Sybil how she can help when Downton is turned
into a convalescent home (S2E3?)
If you're turning American on me, then I'll go downstairs.
Robert (S2E6)
Lady Mary proves she isn't a complete snob by pitching
in when their pigs are dying of thirst. (S4E6)
About a telephone:
Is this an instrument of communication or torture?
Violet (S2E4)
Ethel gives up her son to his grandparents so that he
has a better chance in life. (S3E4)