Hazel Grace Lancaster (Shailene Woodley) and Augustus Waters (Ansel Elgort) are two teenagers who share an acerbic wit, a disdain for the conventional, and a love that sweeps them on a journey. Their relationship is all the more miraculous given that Hazel's other constant companion is an oxygen tank, Gus jokes about his prosthetic leg, and they met and fell in love at a cancer support group. The Fault in Our Stars, based upon the number-one bestselling novel by John Green, explores the funny, thrilling and tragic business of being alive and in love.
I expected to hate this movie because it was a popular teenage romance film. However, I was very pleasantly proved wrong. The story of Hazel and Gus is definitely not a convential love story, nor is a cheesy one. It's a story just as much about friendship and living as romantic love.
At the beginning of the movie, I connected to the main character, Hazel, almost immediately. Her realism and sarcasm felt like a breath of fresh air compared to all the characters I've seen who are big dreamers (don't get me wrong, that's good, too, but I really needed a break from fantasy). I liked the friendship between Hazel and Augustus - and by mid-movie, I had been sold on the romance. The ending is so heartbreaking and yet also beautiful, the movie also had me crying at a certain character's death. This movie has great messages and lessons about life - and from the parts that I can tell are quoted directly from the movie, I know I
NEED
to read the book because this John Green guy sounds like a master with words.
However, I'm going to have to move the rating down a little from a 10 out of 10 because of some certain elements. There is some use of minor (and once or twice not-so-minor) language. God is mentioned a few times, but Hazel seems to dismiss the idea of Him as Someone who could help her. Then there's the scene when Hazel is surprised that Gus is still a virgin, and the other one when the two of them are talking while topless in a bed (we only see Hazel's back). The movie is great once you get past these two scenes, but it is something to contribute to my warning rating.
Alyianna's rating:
9.5 out of 10 (with one warning flag for minor language and sexual content)
Quotes & Images
"Make some friends!" Hazel's mom calls after her .
- from Hazel's favourite book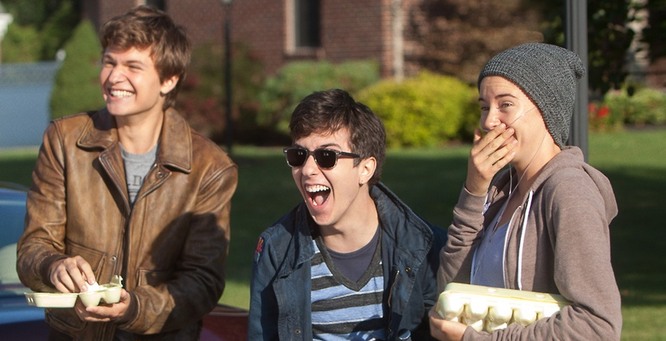 Flight attendant: There is no smoking allowed on this flight - or any flight!
Gus: Oh... I don't smoke.
Hazel: It's a metaphor. He puts the thing that kills between
his teeth, but doesn't allow it to kill him.
Flight attendant: Well, there are no metaphors allowed on this flight.
I fell in love the way you fall asleep: slowly, and then all at once.
The world is not a wish-granting factory.
I'm not a mathematician, but I do know this: There are infinite numbers between zero and one. There's point one, point one two, point one one two, and an infinite collection of others. Of course, there is a bigger set of infinite numbers between zero and two or between zero and a million. Some infinities are simply bigger than other infinities. A writer that we used to like taught us that. You know, I want more numbers than I'm likely to get, and God, do I want more days for Augustus Waters than what he got. But Gus, my love, I can not tell you how thankful I am, for our little infinity. You gave me a forever, within the numbered days. And for that I am... I am eternally grateful. I love you so much.
- Hazel